Information technology and smartphone devices have brought revolutionized changes in almost every industry. The usage of smartphone devices by various health care professionals has transformed many aspects of clinical practices.
The implementation of digitization has certainly created a new communication platform among health care service providers and patients. Today e-prescription or electronic prescription solution is getting popular as this solution is now being an interactive medium for connecting patients with various healthcare providers.
Why e-prescription mobile application is needed?
There are situations when a patient or a pharmacist is not able to understand the handwriting of a doctor. If any misinterpretation of the prescription can certainly risk a patient's life.
Here e-prescription mobile application is the ideal solution facilitating an interactive communication channel between physicians, pharmacists, and patients.
What is e-prescription?
The process of generating prescription electronically is known as e-prescription. This electronically generated prescription is sent to a patient or pharmacist.
These prescriptions are accurate and easy to understand. Moreover, the main objective of the application is to eliminate the risks that are associated with traditional prescription writing, hence ensuring patient safety and quality of care being delivered.
The global e-prescribing market is projected to reach USD 1,403.2 Million by 2021 at a CAGR of 20.8% during the forecast period. The speedy growth in the developing countries across APAC is expected to provide a chance for revenue generation in the market.
On-Demand e-prescription application is growing with increasing adoption of healthcare IT in the medical field.
According to the Surescripts, a healthcare information network, the number of U.S. e-prescribers increased to 8% in 2019, from 2018 and the number of e-prescribers for controlled substances increased to 59% in 2018 from 2017.
B

eneficiaries of e-Prescription Ecosystem:
E-Prescription is certainly benefiting various health care sections such as:
To Pharmacists:
With an electronic prescription fake medical bills generation, drug abuse and other fraudulent activities can be eliminated. As there are proper medical records maintained in the robust database.

E-Prescription facilitates the patients with the ease of refilling of the medicines. Everything being documented over the online platform, the pharmacy companies gets a notification from the e-prescription system regarding the upcoming refill date of the medicines hence ensuring patients compliance with the prescribed medication.

Handwritten prescriptions are not easy to understand at times, hence the life of the patients are always at risk. Therefore with e-prescription, the risk of misinterpretation of the doctor's handwriting has been eliminated.
To Patients:
Safety of the patients can be ensured by e-prescription. There are situations when a patient takes an immediate drug for instant relief and a newly prescribed medication can certainly lead to some reactions. Here if the records are maintained properly in e-prescription application, pharmacists will be able to give the right medication to the patient.
With an e-prescription application patients can find other alternative medicines with exact combinations instead of the prescribed ones.

E-prescription application saves a lot of time of the patients. Unlike the traditional pattern of waiting in long queues to get the medication from the physician or doctor. With e-prescription application, things have become easy.
To Healthcare Providers:
Helps in reviewing a patient's history and current medication & healthcare information.

Entire medication lists with proper dosage details can be generated quickly.

Patient's case history can be understood easily even though they have been treated by another doctor.

Ensures drug side effects and allergies, hence educating the patients.

Accurate, safe & reliable than paper prescription and also ensure safety and medical compliance, and reduces healthcare costs.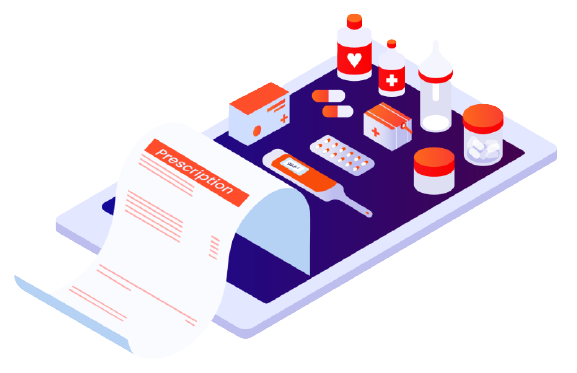 What are the benefits of e-Prescription mobile apps?
The benefits of e-Prescription Applications

 are as follows:
Prescription drug errors can be prevented easily.

Reduces the number of lost prescriptions.

Improves medication adherence.

Saves time.

Enhances accuracy and ensures patient's safety.
Features of 

e-Prescription 

Mobile App
Doctor Panel
In-Patients Panel

Receive Alerts
Known allergies
Access Medicine Database
Generate Refill requests
New RX
e-Cancel
Pending List
Dose calculator
Electronically Send Prescriptions
Controlled Substances Prescriptions
Eliminate prescribing errors
Medical demographics
Customizable Views
Generate Reports
Re-Prescribing
Documentation Capabilities
Patient Prescription History

Patient Details
Known Allergies
Patient History
Doctor Details
Prescription (Text or Image)
New orders
Accept orders
Delivered orders
Track shipment
Received Payment
Prescription History
Drug Database
Check Document
Payment Integration
Caretakers/Nurses Panel
Out-Patient Panel

Known allergies
Medication history
Refill request
Medication Doses
Medication Timings

Upload Test Reports
Check prescription
Medication
Prescription history
Place Orders
Track order
Order history
Payment options
Fax to the pharmacist
Patient Education
Medicine DetailsDashboard
Advance Features of e-Prescription App
Social Login /Signup:
The users can easily complete the signup process simply be entering certain mandatory details. Also, they can link their social media accounts such as Facebook, Twitter, Google ID, phone number etc as the primary source for logging in.
Document Management:
It is software that allows the creation, storage, managing, indexing, protection, and retrieval of digital documents. A good document management system can help organize all the files and data in one place, keep track of all critical documents, speed up the workflow, improve accuracy and provide around-the-clock access to documents from any part of the world.
Document Scanner:
This feature adds extra value to the application. By using an in-built document scanner, patients can scan their important stuff like certain test reports, prescriptions of a previously visited doctor, etc. to save it in their profile so as to use it as and when required.
Electronic Prior Authorization:
Electronic prior authorization is an electronic process established in the National Council for Prescription Drug Programs (NCPDP) SCRIPT Standard that enables the patient and drug-specific PA criteria and a real-time approval for medication prior authorization.
Under medical and prescription drug plans, certain medications may need approval from the health insurance carrier.
Medications which certainly require approval are:
Those that may be unsafe when combined with other medications.

Have lower-cost, equally effective alternatives available.

Should only be used for certain health conditions.

Are often misused or abused.

Drugs often used for cosmetic purposes.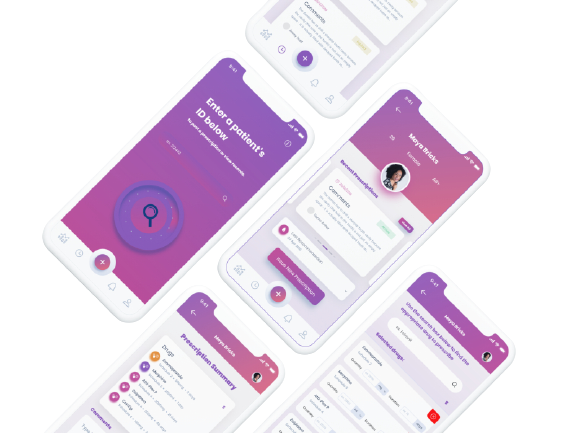 Drug Reference Database:
The place where information related to drugs and medications are stored id termed as the drug reference database. One of the largest and commonly used database is compiled by the Food and Drug Administration (FDA). The FDA is a federal agency that oversees and controls all medications in the U.S., which includes:
Over-the-counter (OTC) medications

Prescription medications

Dietary supplements

Vaccines
Claim Eligibility Verification:
With this feature, the patients can check the eligibility criteria for submission of a claim to their respective insurance service provider.
By simply entering certain mandatory details their application will connect to their respective insurance service provider website where they can get complete details.
EHR Integration:
Electronic Health Records are a prominent solution for accessing critical patient information. EHR integration gives doctors or prescribers access to complete medical records, anytime anywhere from the application. Thus saving time and enhancing patient care
CMS Integration:
A Content Management System (CMS) manages the creation and modification of digital content.
CRM Integration:
This is the most important feature of the application. Customer's choice and search preference need to be monitored in order to deliver the best so as to sustain in the competition.
Customer data collection and management, newsletter management, multichannel marketing & analytics, etc. can be managed with the help of versatile customer relation management.
Push Notification:
It is a great way of keeping the users engaged. Messages related to special offers/refilling reminders or other promotional activities can be sent to the users. This way, it helps to develop user loyalty and also conserves the users in the longer run.
Real-Time Analytics & Dashboards:
An app integrated with real-time analytics, for sure returns out ample benefits. All the reports, pie charts, live dashboards can be checked and viewed by the admin.
Statistics associated with the user acquisition and retention rates offers that are mostly used, etc can be rolled out in the form of charts for making productive business decisions. Also, the application offers dashboards as per the different users. Various statistical reports are available which helps in deriving operational and marketing strategies.
Needed Medical Compliance:
Health Insurance Portability and Accountability Act (HIPAA)

Health Level 7 International (HL7)

Food and Drug Administration (FDA)

U.S. Department of Health and Human Services (HHS)

HITECH's Meaningful Use Stage 1 and 2 (MU-1 & MU-2)

Integrated with EPA (Electronic Prior Authorization), and Certified with EPCS
Required Team Structure
For designing an e-Prescription application numerous factors play an important role as it's a complex and wide scope application that requires a lot of integration. So, let's take a look at the team structure you will need for your app.
Business Analyst
Project Manager
Android and iOS Application Developers
Front-End Developers
Backend Developers
QA Professionals
Graphic Designers
How much does it cost to develop an e-Prescription App?
Factors that affect the development cost are:
Application functionality and features.

Third-party API Integration.

Certifications and compliances

Development company location and hours invested in the application development.

The platforms on which the application is being developed.

Front and back-end development.

UI/UX development.
The US/UK-based developers charge around $70-$250 per hour, Eastern Europe-based developers cost around $50 to $150 per hour, but the software companies and developers in India provide the most reasonable rate which is $20-$70 per hour.
Rahul Mathur is the founder and managing director of ARKA Softwares, a company renowned for its outstanding mobile app development and web development solutions. Delivering high-end modern solutions all over the globe, Rahul takes pleasure in sharing his experiences and views on the latest technological trends.